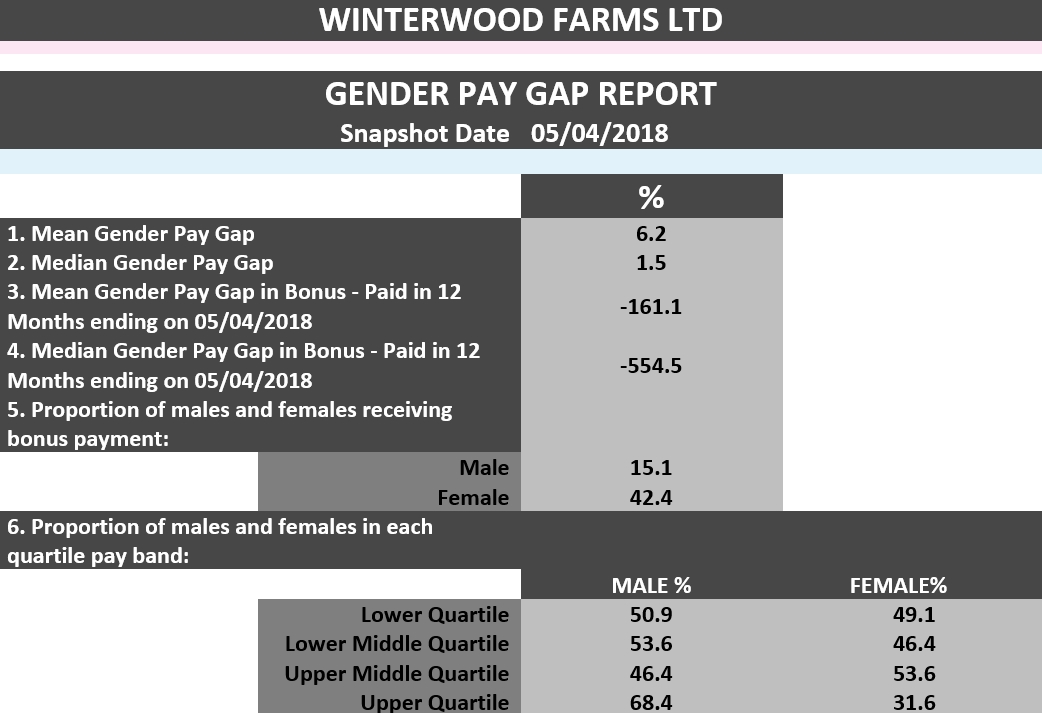 Narrative
Winterwood Farms Ltd is a soft fruit company employing around 250 employees all year round (the number changes ±20% depending on the season).
This is our first Gender Pay Gap Report that we are required by law to publish, but the Company has been compiling internal reports previously, with good equality initiative results..
On the mandatory Report's snapshot date, we had 48.7% female relevant employees and 51.3% male relevant employees, but full-pay relevant employees were 45.1% female and 54.9% male. A contributing factor to the difference was that it was the Easter School Holiday, which meant we had more female members of staff off work. Due to it being the last month of the leave year they may not have had sufficient paid holiday leave left.
Our Mean Gender Hourly Pay Gap was 6.2% i.e. female pay 6.2% lower than men's pay, whilst our Median Gender Hourly Pay Gap was 1.5% i.e. female pay was 1.5% lower than men's pay.
As the Pay is assigned to a specific role, and both female and male employees with the same role receive the same Pay, the 1.5% Gap in Pay is due to different roles taken up by women and men.
Bonus Pay figures show that 15.1% of male relevant employees received bonus pay and 42.4% of female relevant employees were in receipt of bonus pay. This is a year where we started a bonus scheme mid-way through the year.
Mean Gender Pay Gap in Bonus was -161% and Median Gender Pay Gap in Bonus was -555%.
This is not a sign of inequality, but purely that the majority of staff within the roles that generate a monthly performance bonus are women. Please note that bonus pay is only available in certain roles within the company. These particular roles offer more working hours flexibility, which we feel tend to be more attractive to women.
Our bonus scheme is based purely on the employee's performance, regardless of gender.
We continue to uphold our Policy to pay men and women equally and believe the above data shows this to be the case, with any anomalies explained as not being a result of any discrimination to men or women on grounds of their gender. All arising opportunities are readily available to all.
Written Statement
The Company Director of Winterwood Farms Ltd, Terry Gilham, confirms that the information is accurate as at the time of publishing and the data has been calculated according to the requirements of the Equality Act 2010 (Gender Pay Gap Information) Regulations 2017.